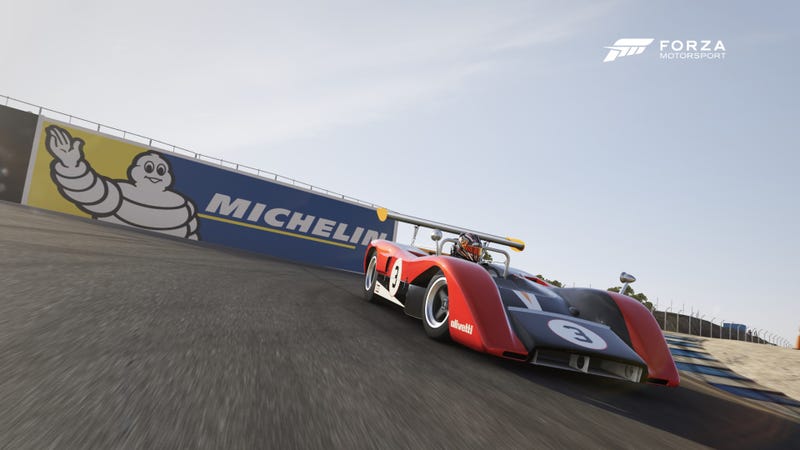 It's time for Oppositelock's next racing series. Sticking with dangerous vintage cars, we move from Formula Juan to the fastest cars of the 1960s: Can-Am. In this post, I have the specifics of the series, including the schedule and eligible cars. You can also begin to sign up for the series in this post.
THE SERIES
Firstly, it is open to anyone and everyone. It doesn't matter how good or bad you are at the game. We have people of all skill levels regularly race with us. It results in some great racing, too. These whole series, especially the endurance races, are some of the most fun I've ever had in Forza. Back to the series itself, it will mimic the races of the 1969 Can-Am Championship. All of the tracks that are both in Forza and that series' calendar are included, with a few other from other seasons or other tracks that seemed fitting. Each race will be between 50 minutes to an hour long. Beforehand, there will be a ten minute qualifying session to set the grid. At the start of the actual race, there will be a formation, where the the race will start at or near the start/finish line at a time specified by me. Yellow flag and caution rules will also be in effect. They will be handled the same way as any of our other races. Drive like you are in an actual race, and not an online public matchmaking lobby, and you will be fine. If you are new to racing with us or need a refresher, take a look at SVTyler's post on driving etiquette. If you follow those guidelines, you will be just fine in the race. In terms of assists and lobby setup, damage will be set to simulation, collisions will be set to always on, all assists are allowed, and there will be two required pit stops. Also, while all assists are allowed, many of us use very few of them, mostly limited to driving line, manual without clutch, and the occasional ABS. Just something to keep in mind. In addition, I kind of discourage the use of any assists given the nature of the cars in the series, but if you want/need them, feel free to use them. Also, instead of using parties or gamechat, we are going to be using an app called Discord to communicate during the races. It is available for free on any desktop or mobile OS. Please join the Discord server even if you don't have a mic, that way you can still hear everyone else. If for some reason we are not using the app or it fails, we will be using gamechat to communicate, and hoping for the best. HERE IS THE INFO AND SERVER ACCESS LINK FOR THE DISCORD SERVER.
THE TRACKS AND SCHEDULE
Here is the current schedule for the races. At the moment, I only have one date confirmed due to this series alternating with Cowmaster's GT4 series that you all should also race in and uncertainties in schedules. The specific time and date of each race will be announced 1 to 2 weeks beforehand, so make sure to look on Oppo, Reddit, or this post for updates on the next event.
The races will most likely be held at 4:30 PM EST on Saturdays, like it was in F1 or other Oppo series, though that may not hold true if schedule conflicts present themselves. For example, round 1 will be at 5:00 PM EST so I can get back from a car show in time to host it.
July 15th, 5:00 PM EST: Road America Full Circuit, 27 Laps COMPLETED
August 5th, 4:30 PM EST: Watkins Glen Full Circuit Alt, 33 Laps COMPLETED
August 19th, 4:30 PM EST: Lime Rock Full Circuit, ~55 minutes COMPLETED
August 26th, 4:30 PM EST: Indianapolis GP Circuit Alt, 36 laps COMPLETED
September 23rd, 4:30 PM EST: Sonoma GP Circuit COMPLETED
November 11th, 8:00 PM EST: Road Atlanta Full Circuit COMPLETED
December 9th, 8:00 PM EST: Laguna Seca COMPLETED
December 16th, 8:00 PM EST: Virginia International Raceway Full Circuit COMPLETED
THE RULES
We will be racing Can-Am race cars for this series. There will be a set build for each car that you must match. It is highly encouraged that you have a mic so you can warn drivers when you are going to pass and communicate in general. However, I recommend that you use a mic regardless of what car you are driving. If you are stuck behind slower/lapped traffic, be patient and do not force your way through. The only thing that will happen if you try and weave through several side by side cars is a crash. Just in general, do not try a high risk maneuver. Be patient and let passing opportunities create themselves. Also, be careful when exiting pit road as to avoid oncoming traffic, fast or slow moving. It is probably a good idea to call out when you are exiting the pits so the drivers passing by them know there will be slow traffic coming up in front of them. In addition, it is expected that all drivers will follow and obey track limits. Track limits will be defined as the area of the track enclosed on either side by white lines, grass, sand, varying types of tarmac, or any combination of the four. Of course, accident avoidance overrules track limits and you can go off-road in that situations. Cutting corners sharp is also fine so long as all four tires do not exit the track. However, driving off-road to completely skip a corner to gain a time/racing advantage will not be tolerated. Additionally, driving backwards on the track is not permitted at any point. Driving backwards will result in a very probable disqualification and points penalty if there is a major incident.
Before the race, there will be a timed race session with damage set to cosmetic and collisions set to always off for you to set your fastest time and determine your spot on the gird. Qualifying is not required, however not participating in it will immediately move you to last place for the race start.
Here are the rules for cautions. Credit for the original rules goes to r/redditracing, as I've only made minor changes. For a caution to be called, a multiple car wreck must have occurred in which both cars either spin, flip, take significant damage, or lose serious time off track. One of the involved drivers and/or a witnessing driver must call the caution. When a caution is called, the race leader should slow to about 50 or 60 mph to allow the field to catch up as quickly as possible. The race leader will also assume the role of pace car unless there is a pace car present in the race. If there are multiple pace cars, the one ahead of AND closest to the leader will go in front of the field. ABUSE OF THE CAUTION CALL WILL RESULT IN SEVERE PENALTY. The caution will last one to two laps. The field should form quickly and efficiently to reduce length of yellow. There is no passing under caution with one exception. Any cars that are not on the lead lap may make ONE lap up under yellow (if you are multiple laps down, you can only make up one lap per caution). However, they may not pit to repair damage if they take the free pass. There is also no guarantee that a free pass car(s) will catch the tail end of the field before green. The pits will open remain open for the full duration of the caution. Restarts will be single file at the start finish line unless otherwise specified. At the restart, the pace car will enter the pits, and then return to its on-track resting point on exit. Once there are less than 3 laps left in the race, no cautions can be called.
CAR LIST AND BUILD RULES
Listed below are the cars that are eligible as well as their respective build rules. If it is not listed, it is not eligible for the race.
To make the field more diverse and for better pictures, period correct/inspired custom made or storefront paint jobs for each driver are highly encouraged. For this series, every driver can pick their own race number and will need it for their livery. If the number(s) you pick are taken, you will be notified and given your highest choice still available or asked to pick another. Also, if you desire, your car can be re-branded and painted as such. For example, you could run the McLaren as a Tyrrell. There is the option to signify this in the sign up form. Otherwise, it will be denoted as whatever it is in the game.

Some Other Important Notes
I tested all of the cars extensively to make sure they were even. In addition, I will keep testing them up until race day to make sure there weren't any inconsistencies in my original testing.
The build rules are set for the season. However, if a major issue presents itself, the builds may be changed, though this is unlikely.
Custom rims are allowed on all cars so long as some rules are followed. For all cars, heavyweight/chrome rims (Dub, Lowenhart, etc.) are banned. Due to the build rules, the rims cannot change the PI of the car. For example, if the PI is P906, the PI must stay that way after the rims are added.
The 1971 Ferrari ♯2 Ferrari Automobili 312 P is a unicorn car and cannot be accessed conventionally. Thank you based Forza 7.
UPDATE 8/23/17: The builds rules for the following cars have been modified: 1966 Chaparral ♯66 Chaparral Cars 2E; 1969 Nissan ♯21 Nissan Racing R382
UPDATE 11/7/17: All cars will now follow Forza's homologation standards for Group Prototype. Specifically, all cars must run stock tires, have less than 600 HP, and meet a PI of R850. Beyond that, you have free reign of what parts go on the car. This may change as I finish purchasing all eligible cars.
UPDATE 12/5/17: Proper BoP for Forza 7 is now in place.
Eligible Cars And Build Rules
1966 Chaparral ♯66 Chaparral Cars 2E (P907) (race displacement, race brakes, race transmission, race driveline, race tires, 2nd front tire width, 1st rear tire width)
1971Ferrari #2 Ferrari Automobili 312 P (P905) (race fuel system, race ignition, race valves, race pistons, race brakes, race driveline, race tires, max front tire width, max rear tire width)
1969 Lola ♯10 Simoniz Special T163 (P908) (race valves, race displacement, race flywheel, race brakes, race transmission, race driveline, race tires)
1969 McLaren ♯4 McLaren cars M8B (P905) (race displacement, race brakes, race transmission, race driveline, race tires, race rear wing (optional))
1969 Nissan ♯21 Nissan Racing R382 (R898) (race valves, 2nd restrictor removal, race brakes, race transmission, race driveline, race tires, max front tire width, max rear tire width)
SCORING
The scoring and points system for this series will follow Can-Am's scoring system with some adjustment so all drivers scores points. Here are the points that will be scored for each position.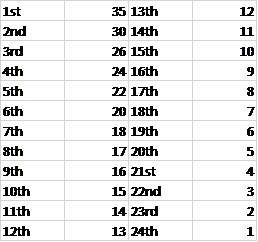 There will be a separate points championship for drivers and constructors. For the constructors championship, if there are multiple cars from the same constructor, the one with the highest finishing position is the one that will score points for the championship.

UPDATE 11/7/17: There will now be a 2nd points championship for the last 3 rounds in Forza 7. There will not be a drop round for this championship. The original points championship will still continue as is.
SIGN UP
If you are participating in this race, please click the link below to complete a very brief survey so I can keep track of who signs up and their gamertags (the only information required is your gamertag and Oppo username). There will also be questions asking what number you would like, if you are interested in being a pace car (though we already have someone who usually is able and willing to do that), if you want you car re-branded, and if you are able to host races in the event that I cannot. If you sign up and for whatever reason are not sent a friend request by me, feel free to send me one as well as a message indicating that you intend to participate in the race. My gamertag is Corey CC97. In addition, you can get in contact with RoboRed (GT: RoboRedMdn1te), SVTyler (GT: mackleroy45), or anyone else who races with us regularly if you do not hear from me, and they will get you set up. If you do not complete the survey or get in contact with me or the other people racing somehow, there is a very good chance you will not be sent an invite to the race on race day.
I will be posting reminders for this series frequently with links to this post. If you have questions, please leave a comment on this post or one of the reminder posts.